GET TO KNOW
BRILLIANT SOLAR
Established in 2008, Brilliant Solar is one of the pioneers in the solar power system industry in Malaysia. Previously known as MySolar Pro, the company rebranded as Brilliant Solar in 2014.
​Brilliant Solar is a one-stop solution provider for solar power systems, designed for maximum energy yield. We provide consultation, installation, maintenance and procurement services for both residential and commercial users across Peninsular Malaysia.
We pride ourselves for only using top-quality products and experienced installers. We provide only the best for our clients because we believe that quality is built on trust.
13 YEARS
We've already been around for 13 years, so rest assured that we'll still be at your service when you need us 13 years later, as our solar power system has a 25 years manufacturer warranty.
OVER 300
We've been entrusted by over 300 residential and commercial sites to install solar power system. It's safe to say that we possess the know-how required to satisfy your every request.
CERTIFIED
We are registered under the first policy Feed in Tariff (FIT), and a licensed and approved service provider under the Sustainable Energy Development Authority (SEDA) Malaysia.
WHY TRUST US?
Brilliant Solar is registered under and approved by:​
MyHIJAU Mark is Malaysia's official green recognition scheme endorsed by the Government of Malaysia, which certified Brilliant Solar as a green product and service provider that meet local and international environmental standards.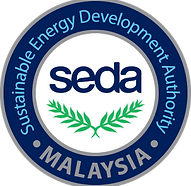 The Sustainable Energy Development Authority Malaysia is a statutory body formed under the Sustainable Energy Development Authority Act 2011 which makes Brilliant Solar eligible for TIF, NEM, and other programmes under SEDA.
Construction Industry Development Board is the Government Agency entrusted to enforce the Malaysia Standard mandated on the importation of construction products, which verified the quality of our imported products.
SUPPLIER SOLAR PANEL MALAYSIA
Brilliant Solar Sdn Bhd has established itself as a reliable solar panel supplier Malaysia of high-end and high-quality solar products from major brand names and suppliers all over the world. We strive to deliver outstanding components and unrivalled service so that our clients' transition to solar energy is simple and enjoyable.  We have always been at the frontline of solar product and service provision, and we aim to exceed our clients' expectations at every chance.
SOLAR PANEL DISTRIBUTOR
We refresh our inventory and collaborate with well-known brand names and suppliers to gain access to top-of-the-line and cutting-edge solar items on the market today and provide them at prices that are affordable to all clients. Providing the most comprehensive array of recognized solar panel solutions that can assist you in harnessing the energy of the sun and achieving energy independence. As a leading solar panel distributor Malaysia, we offer the proper solar panels for your house or workplace, and they come in a variety of brands and sizes. As a supplier solar panel Malaysia, we offer hassle-free solutions for all of your solar system needs, including financing and insurance. Our team consists of a wide set of on-site and industrial experiences, with projects completed by a skilled team.
OPTIMISE ENERGY USAGE
What makes us stand out from the other solar panel companies is that we use custom engineering and top-tier components to optimise your solar performance. Brilliant Solar Sdn Bhd is a known for our quality of panels used.  Moreover, we enable you to optimise and reduce your energy use and provide businesses and homeowners with entirely hassle-free solutions.  No matter how big or small your space is, our team will be able to complete the job beyond your expectations. A custom-designed Solar PV system is a far superior alternative for cutting your high utility cost while also lowering your operational expenditures and thereby increasing your profit!
GET STARTED WITH US TODAY
We specialise in providing Solar PV systems for commercial and industrial clients. We used renewable energy resources as a reputed solar company to deliver maximum benefits to your organisation.